Clinical overview
Type 2 diabetes places a heavy burden on patients, families and communities. As a clinician, you have the ability to make a difference in your patients' lives.
DISCLAIMER: THE CONTENT ON AMApreventdiabetes.org (referred to as the "AMA Prevent Diabetes Website") IS PROVIDED FOR INFORMATIONAL PURPOSES ONLY AND IS NOT INTENDED AS MEDICAL ADVICE, OR AS A SUBSTITUTE FOR THE MEDICAL ADVICE OF A PHYSICIAN.  SOME CONTENT SUGGESTIONS AND BUDGET TOOLS MAY NOT BE RIGHT FOR YOUR PRACTICE OR PATIENTS, SO CONSULT YOUR LEGAL OR FINANCIAL ADVISER BEFORE DEPLOYING THEM.
The AMA is committed to helping you prevent type 2 diabetes in your patient population and improve their health outcomes. The resources available here will assist you in identifying your patients who are at risk for type 2 diabetes and managing them with an effective treatment. If your organization does not have a diabetes prevention strategy, the AMA has also developed an online experience to implement a system-wide strategy. Click here to obtain more information and to share this with your colleagues.
M.A.P. framework approach to diabetes prevention
The M.A.P. framework is designed to help clinical care teams and physicians accurately diagnose and effectively treat chronic disease. Initially developed by the AMA and its partners for use in improving hypertension control rates, the framework is organized into three domains that address and overcome major challenges associated with diagnosing and treating chronic disease.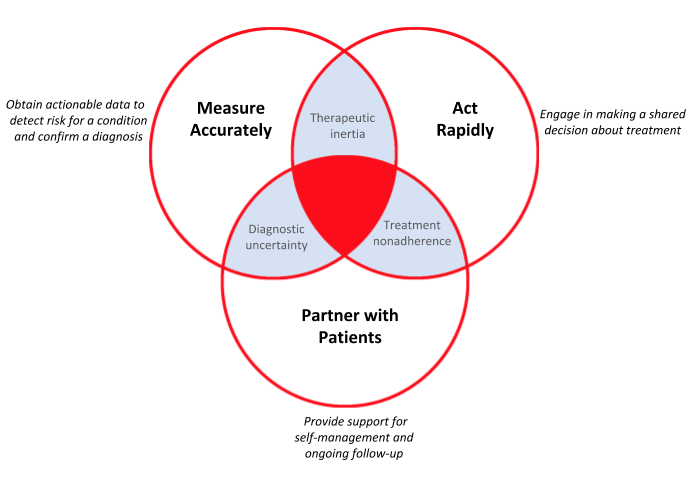 The challenges addressed by the M.A.P. framework are diagnostic uncertainty (defined as lack of clarity as to whether a condition exists), therapeutic inertia (defined as failure to initiate or escalate treatment when patients have not met treatment goals) and non-adherence to prescribed treatment.
The three domains of M.A.P. are:
Measure accurately
Obtain actionable data to assess risk for a condition and confirm a diagnosis

Act rapidly
Engage in making a shared decision about treatment options

Partner with patients, families and communities
Provide support for self-management and ongoing follow-up to engage patients while continuously re-assessing and managing risk
In diabetes prevention, the M.A.P. domains can be used to define effective, evidence-based strategies for primary care teams to achieve improved outcomes for patients at risk for type 2 diabetes:
Measure accurately
Assess relevant medical, social and family history and other clinical data, such as a history of gestational diabetes mellitus, previous laboratory test results and current BMI

Use evidence-based guidelines to identify patients at risk for abnormal glucose based on available data

Order appropriate laboratory testing to diagnose patients with prediabetes/abnormal glucose* and document the diagnosis
Act rapidly
Counsel and educate patients on the risks associated with abnormal glucose levels and available treatment options, with an emphasis on diabetes prevention program (DPP) lifestyle change programs +

Make a shared decision with patients about treatment and formalize treatment plan
Partner with patients, families and communities
Ensure all eligible patients are enrolled in a National DPP lifestyle change program

Support patients in making healthy lifestyle changes and encourage continued participation in the lifestyle change program

Follow-up regularly to re-assess and manage abnormal glucose levels and other relevant clinical data
* Patients who meet diagnostic criteria for Type 1 or Type 2 diabetes mellitus should be diagnosed and managed with evidence-based treatment; recommendations for diabetes treatment are currently outside the scope of the AMA's work in diabetes prevention and thus are not included in this website
+ The National Diabetes Prevention Program lifestyle change program is an evidence-based intervention that has been proven to help prevent or delay progression to type 2 diabetes