Diabetes prevention strategy overview
Type 2 diabetes places a heavy burden on individuals, communities and health care systems across the country. The AMA is dedicated to addressing America's growing chronic disease epidemic and helps health care organizations use targeted strategies to prevent new cases of type 2 diabetes in their patient populations.
As a member of your health care organization's diabetes prevention team, it's important to understand the rationale and core components of a successful diabetes prevention strategy that includes the National Diabetes Prevention Program  (National DPP) lifestyle change program, an evidence-based treatment option for patients at risk for type 2 diabetes.
In this section, you'll learn more about the impact of diabetes and how you can meet your health care organization's diabetes prevention goals.
Burden of diabetes
More than 30 million Americans have diabetes (approximately 10% of the population) – the majority of which have Type 2 diabetes.1

Diabetes is the seventh leading cause of death in the United States.1

Individuals with diabetes are at increased risk for heart disease and stroke, and can develop other serious complications such as retinopathy, chronic kidney disease and peripheral neuropathy.1​​​​​​​

Individuals with diagnosed diabetes typically have medical expenses 2.3 times higher than those without diabetes.2

Preventing prediabetes from progressing to type 2 diabetes can save an average of $2,671 in medical expenditures for each individual every year.3​​​​​​​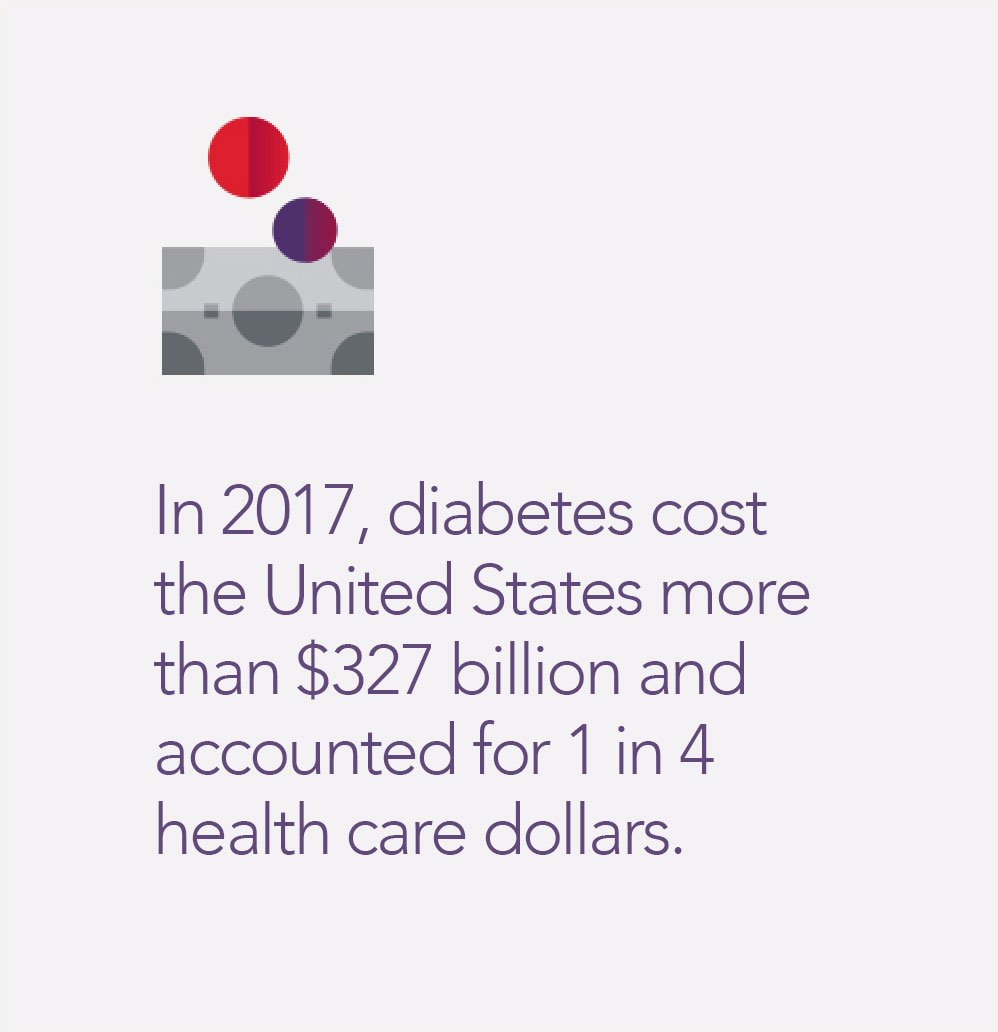 2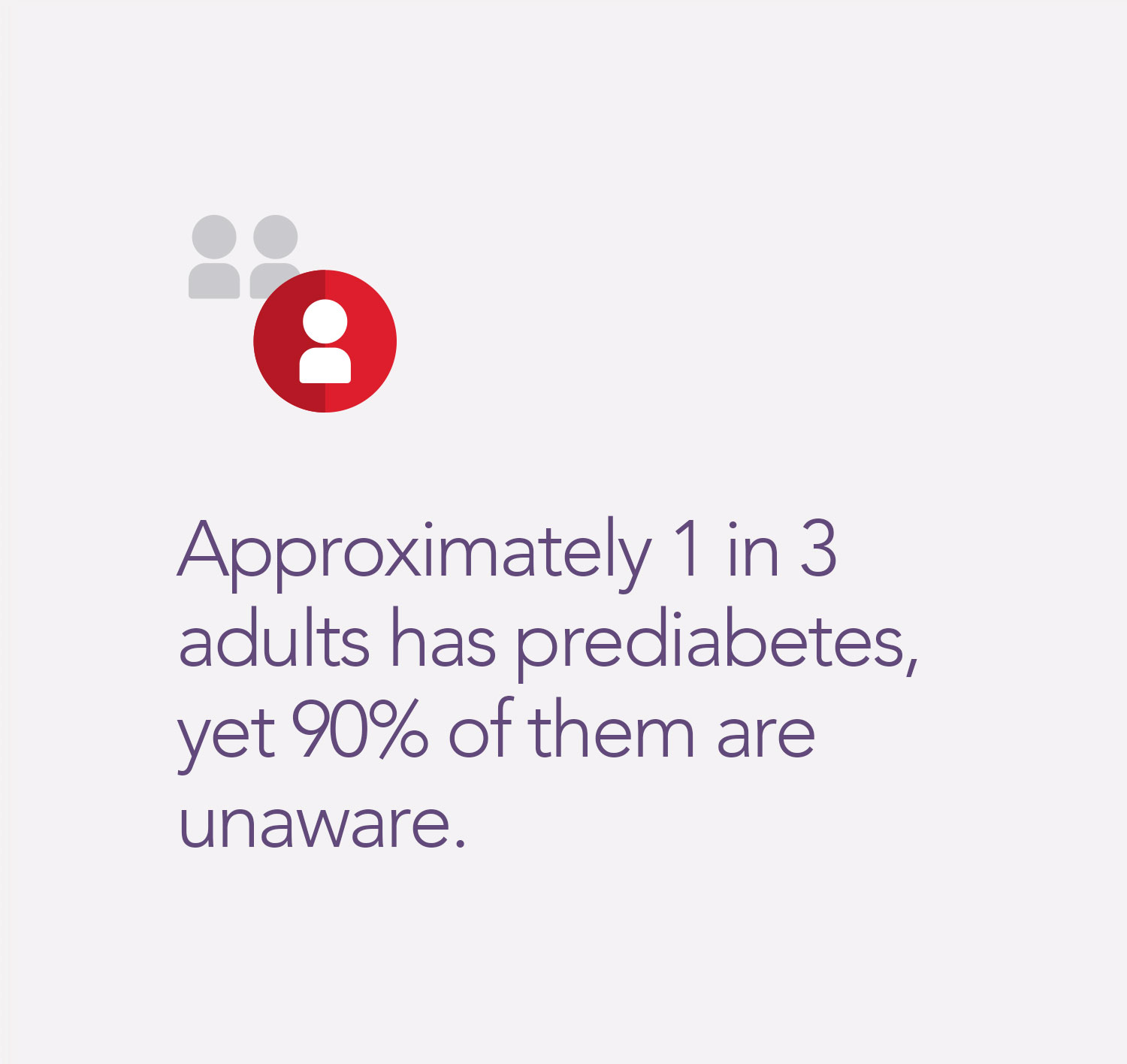 1
Prediabetes - why prevention is important
Prevention is essential to reduce the prevalence and incidence of diabetes. Approximately 84 million adults in the United States have prediabetes1, a condition in which blood glucose levels are higher than normal, but not high enough to meet the diagnosis of diabetes. People with prediabetes are at risk for developing diabetes, yet many of them are unaware of their condition and unable to take steps to reduce their risk.
An epidemic you can stop
Early identification and management of patients with prediabetes is critical as there are treatment options that can help prevent or delay progression to type 2 diabetes. Intensive lifestyle intervention is one such treatment option. In a major research study, people at high risk for type 2 diabetes who received a structured intensive behavioral counseling intervention had a 58% reduced incidence of type 2 diabetes at average follow-up of 3 years compared to those who received placebo treatment.4 
The National Diabetes Prevention Program lifestyle change program
The National DPP lifestyle change program is a structured lifestyle intervention program for patients at risk for diabetes. The program helps participants make sustainable healthy behavior changes and achieve weight loss. Oversight and quality assurance of the program is through the Centers for Disease Control and Prevention (CDC).
The program curriculum covers a comprehensive list of topics and is delivered by a trained coach who works to empower each participant to adopt the skills needed to improve their lifestyle and overall well-being.
Some additional details about the National DPP lifestyle change program:
Participants meet in groups with their assigned coach approximately once a week for 16 core sessions, and then approximately once a month for 6 to 8 follow-up sessions

During the sessions, participants learn how to incorporate and sustain healthier behaviors, such as an improved diet, into their daily routine

The goal for each participant is a minimum body weight loss of 5% and 150 minutes of weekly physical activity

Program providers are required to follow national standards and submit regular data to the CDC on program enrollment, retention and participant outcomes in order to receive recognition as a National DPP lifestyle change program
Join the movement to prevent type 2 diabetes today!
Health care organizations can join the movement to prevent type 2 diabetes by launching a diabetes prevention strategy that includes referring eligible patients or employees to a CDC-recognized National DPP lifestyle change program.
The AMA has developed a free, guided journey to assist you with implementing a diabetes prevention strategy. This personalized online experience provides tools and resources to assist you in defining goals, building your project team, completing tasks, and tracking progress toward either your program launch date, or the date you will start referring to an external program. For an introduction of what the digital journey has to offer, take a look at this video.
This website also provides a repository of tools, resources, and content specific to diabetes prevention. These resources are of value to any health care organization looking to implement a diabetes prevention strategy or advance an existing strategy.
Getting started is simple
Create a personalized account by registering here.

Complete a quick online assessment. Answer a few questions about your health care organization's current diabetes prevention efforts.

Receive a customized planning dashboard. Your responses to the assessment will be used to create a personalized dashboard that will guide you through key considerations needed to plan and implement a diabetes prevention strategy at your healthcare organization.

Access best practice solutions. You'll have free access to strategies currently being used by health care organizations across the country to systematically identify and manage their patients with prediabetes.
We know that implementing a sustainable and successful diabetes prevention strategy takes time. On average, it takes nine months. That's why we designed the online experience to interact with your health care organization over the course of your strategic planning process—providing support and tracking milestones as you complete assigned tasks along the way.
Register now to access the AMA's assessment, and take the first steps to plan and implement your diabetes prevention strategy.
You'll receive a free, step-by-step framework for building your strategy, including online support and assistance to help you get started.
Sources:
1 Centers for Disease Control and Prevention. National Diabetes Statistics Report, 2017. Atlanta, GA: Centers for Disease Control and Prevention, U.S. Dept of Health and Human Services; 2017.
2 American Diabetes Association. Economic costs of diabetes in the US in 2017. Diabetes Care.  2018. care.diabetesjournals.org/content/early/2018/03/20/dci18-0007 Accessed Nov. 20, 2018. 
3 Khan, T, Tsipas S, and Wozniak G. "Medical care expenditures for individuals with prediabetes: the potential cost savings in reducing the risk of developing diabetes." Population health management 20.5 (2017): 389-396.
4 Knowler WC, Barrett-Connor E, Fowler SE, et al. Diabetes Prevention Program Research Group. Reduction in the incidence of type 2 diabetes with lifestyle intervention or metformin. N Engl J Med 2002;346(6):393-403.
DISCLAIMER: THE CONTENT ON AMApreventdiabetes.org (referred to as the "AMA Prevent Diabetes Website") IS PROVIDED FOR INFORMATIONAL PURPOSES ONLY AND IS NOT INTENDED AS MEDICAL ADVICE, OR AS A SUBSTITUTE FOR THE MEDICAL ADVICE OF A PHYSICIAN.  SOME CONTENT SUGGESTIONS AND BUDGET TOOLS MAY NOT BE RIGHT FOR YOUR PRACTICE OR PATIENTS, SO CONSULT YOUR LEGAL OR FINANCIAL ADVISER BEFORE DEPLOYING THEM.