AMA publications
Find support for building a business case for your diabetes prevention strategy and creating a best of class program. Our collection of research, briefs, white papers and clinical guidelines will elevate your knowledge about prediabetes and diabetes prevention. Explore our case studies to learn best practices on implementing a National DPP lifestyle change program.
DISCLAIMER: THE CONTENT ON AMApreventdiabetes.org (referred to as the "AMA Prevent Diabetes Website") IS PROVIDED FOR INFORMATIONAL PURPOSES ONLY AND IS NOT INTENDED AS MEDICAL ADVICE, OR AS A SUBSTITUTE FOR THE MEDICAL ADVICE OF A PHYSICIAN.  SOME CONTENT SUGGESTIONS AND BUDGET TOOLS MAY NOT BE RIGHT FOR YOUR PRACTICE OR PATIENTS, SO CONSULT YOUR LEGAL OR FINANCIAL ADVISER BEFORE DEPLOYING THEM.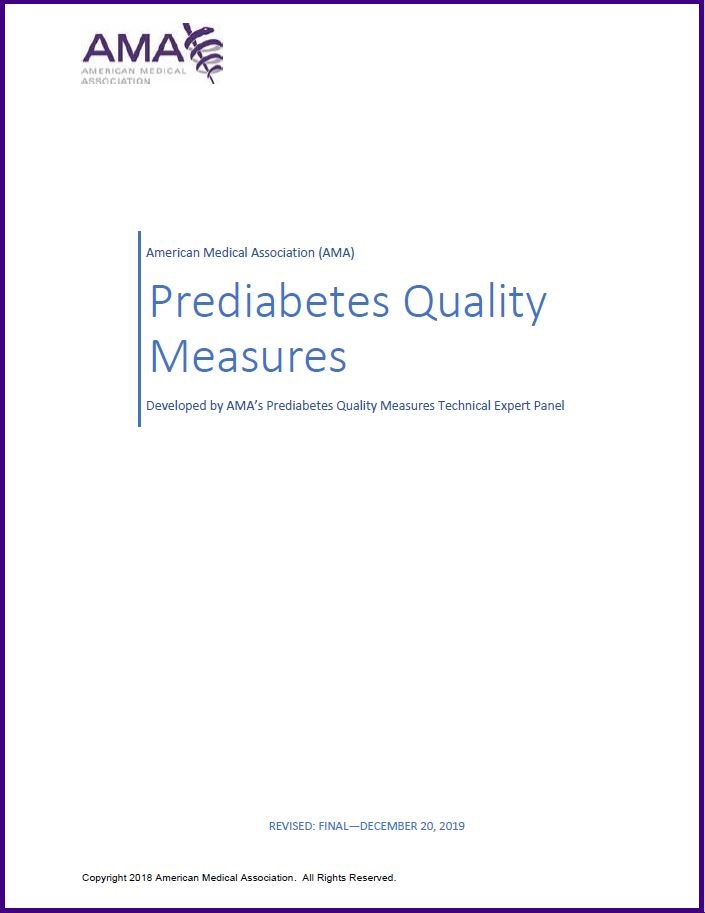 AMA Prediabetes Clinical Quality Measures
The Prediabetes Clinical Quality Measures, developed by the AMA's Prediabetes Measures Technical Expert Panel, are electronic clinical quality measures (eCQMs) that aim to identify and define new measures for prediabetes in an effort to support type 2 diabetes prevention efforts nationwide. Specific areas of focus include increasing screening and testing for prediabetes, referring/providing those at risk an intervention, and follow-up testing for patients with prediabetes.
Download